The Boston Celtics may now be the Beantown Boilermakers. Or East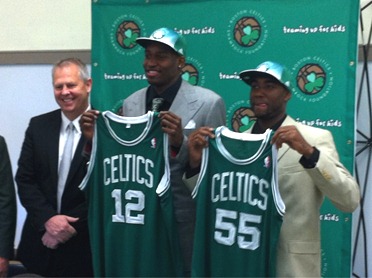 Lafayette.
Former Purdue leaders JaJuan Johnson and E'Twaun Moore are taking their talents to Boston to join one of the most storied franchises in NBA history.
Today the former Boilermakers were introduced by Celtics President Danny Ainge.
At first glance, the jersey's seem to be backwards.
Johnson, a Franklin Central High School graduate, opted to be a big man with a little number—wearing No. 12.
East Chicago Central's E'Twaun Moore choose to go with the double-nickel, 55.
Johnson was drafted 27th by the Celtics and earned a guarantee contract because he went in the first round. As a senior at Purdue, he averaged 20.5 points, 8.6 rebounds and 2.3 blocks. He was named Big Ten Player of the Year.
The Celtics selected Moore 55th overall—E'Twaun averaged 18 points and 5 rebounds in his final campaign in West Lafayette and was an Academic All-American.