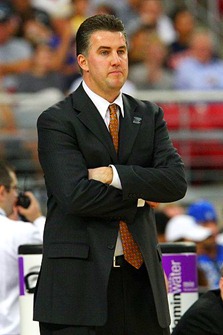 Purdue has stolen some spotlight from the Final Four bound Butler Bulldogs in their attempt to retain head coach Matt Painter. He is contemplating leaving West Lafayette after six seasons to take over the program at Missouri.
There are many items going into the decision.
The first of which, is Painter's relationship with athletic director Morgan Burke and company. He is not satisfied with the treatment he has received from the athletic department. The backing hasn't been there, nor have resources been made available.
The resources were talking about are sufficient funds put into the basketball program, in more ways than one. Painter is currently make roughly $1.3 million per year thanks to successful seasons and his incentive-based contract. One Mizzou account is reporting that they would offer Painter a seven-year deal for more than $2 million a season.
Then there are his assistant coaches. The head coach receives all the attention but some of the best coaching decisions are made by the assistant coaches. They are the one's that are scouting, doing research and usually have a closer relationship with the players. People underestimate the value of assistant coaches. Remember former Cleveland Cavaliers head coach Mike Brown? He was a charismatic coach that provided leadership to his team. But his assistants did most of the coaching and grunt work while he got all the credit.
Next are the facilities. More than ever, recruits are looking at more that go into a school and program than just the head coach. Players use to commit to play at Indiana just because of coach Bob Knight. Indiana and Kentucky for example have brand new practice facilities and other program upgrades that propel them even further from the pack. Purdue has broken ground on newer facilities and renovating Mackey Area.
On Tuesday Missouri athletic director Mike Alden and the committee flew down to Orlando to meet in person with Matt Painter for the first time. This was his time to sell the school and give Painter his pitch. No decision was made.
Students organized a rally on Tuesday showing their support, or lack there of for Matt Painter.  About 400 people joined the Facebook event yet only 11 showed up at the Memorial Mall to back their coach. Maybe the students had class. Maybe they don't care. But that's sad.
Since, Purdue has fired a "counter-offer," after top school officials met extensively to enhance his deal and make it more enticing. Currently, he has the 8th largest salary in the Big Ten…out of 11 teams. The Boilers better throw some cash his way, to his assistants, and provide proof of their commitment to the basketball program.
But I do wonder, why wait to offer until competition strikes? They should be ahead of the curve and pay him what he deserves rather than making a counter-offer. Coach Painter has led Purdue to four of the best seasons in team history and they are on the brink of losing him. That would be moronic and flat-out stupid on Purdue's part.
To make matters worse, Purdue associate athletic director Nancy Cross emailed a note to all members of the John Purdue Club detailing their commitment to the basketball program, and assigning blame on the donors!
Ironically, I believe we would not be in this situation had more than 11% of our current membership participated in the Mackey Challenge and more than 150 of our nearly 9,000 members recruited at least one new member.
I posted the complete email earlier today. What a joke.
One report said that Painter has done "remarkable due diligence on Mizzou job" and feels good about Missouri's chance. Alden told Coach Painter that he would like to have an answer by noon on Wednesday. That's a little more than 12 hours from now.
Painter is 130-61 in six seasons at Purdue. The farthest his team has ever made it was to the Sweet Sixteen in both 2008-09 and 2009-10. He has also been named the Big Ten Coach of the Year the last two years.